Good morning Golden Bear Families, Miller Ave is closed between Colescott and St. Joe. Hendricks students that catch the bus on Miller Ave between Colescott and St. Joe should use temporary bus stops at Colescott at Quesada or Parker at Lincoln. All High School and Middle School students that catch the bus on Miller Ave between Colescott and St. Joe should use temporary bus stops at Colescott at Quesada or Miller Ave at St. Joe Please ride your regular bus, who will be at these alternate stops near your normal pick-up time. Additionally, this may affect all other bus routes as well, as traffic is routed around the closed area. Some buses may be a couple of minutes later than normal due to the closure. We regret the inconvenience. Carrie Glisson Director of Transportation Shelbyville Central Schools 1121 E State Rd. 44 Shelbyville, Indiana 46176 317.392.2505 ext: 1259
ccglisson@shelbycs.org

Good morning Golden Bear Families, Miller Ave is closed between Colescott and St. Joe. All Hendricks students that catch the bus on Miller Ave between Colescott and St. Joe should use temporary bus stops at Colescott at Quesada or Parker at Lincoln. Please ride your regular bus who will be at these alternate stops near your normal pick-up time. We regret the inconvenience. Carrie Carrie Glisson Director of Transportation Shelbyville Central Schools 1121 E State Rd. 44 Shelbyville, Indiana 46176 317.392.2505 ext: 1259
ccglisson@shelbycs.org

Shelbyville Central Schools will be on an eLearning Day today, Friday 4/14/23. We have been notified that we were one of several districts that received a threat overnight that has not yet been identified. Out of abundance of caution our buildings will be closed today. Students will have one week to complete assignments. We will communicate more information when appropriate. Thank you. Teachers will have eLearning assignments posted on Google Classroom by 9:00. iPads will be sent home on Monday with those students who are unable to complete work on personal devices today

The Shelbyville Central Education Foundation will be selling iPads again this year. Click here to reserve your iPads:
https://forms.gle/WQQ7maDsDZjbZb128
Sales will be made on a first come first serve basis based on the time stamp from the Google Form. The only iPads available now are the iPad Air 2, 16GB - $50.00 each. You may reserve as many iPads as you wish at this time; however, a limited quantity is still available. Pick up will be on April 7th at Coulston Elementary - 121 N. Knightstown Rd, Shelbyville IN - from 9:00 am until 12:00 noon and 3:00 until 5:00 pm. Please note that they will be sold in as-is condition. There will be no case, charging cord, or block provided. We ask that the iPad be checked prior to leaving school. There will be no support for devices once they leave the grounds. This will be a CASH-only sale. Click here to reserve your iPads:
https://forms.gle/WQQ7maDsDZjbZb128

On Thursday, March 30, 2023, from 6:00-7:00 p.m., the Board of Trustees of Shelbyville Central Schools will have a special meeting at the Board Room located at 1115 IN-44, Shelbyville, to discuss bullying. Members of the community are invited to attend and share their experiences and ideas on how we can make our schools better.

Shelby County Co-op Agronomist Mary Rodenhuis takes Mrs. Neeman's fourth graders on a journey about how the Dust Bowl changed farming practices. The class has been reading "Out of the Dust," the true story of one family's struggles during the the Dust Bowl. Thank you Shelby County EMERGE and Shelby Co-op for this great learning experience!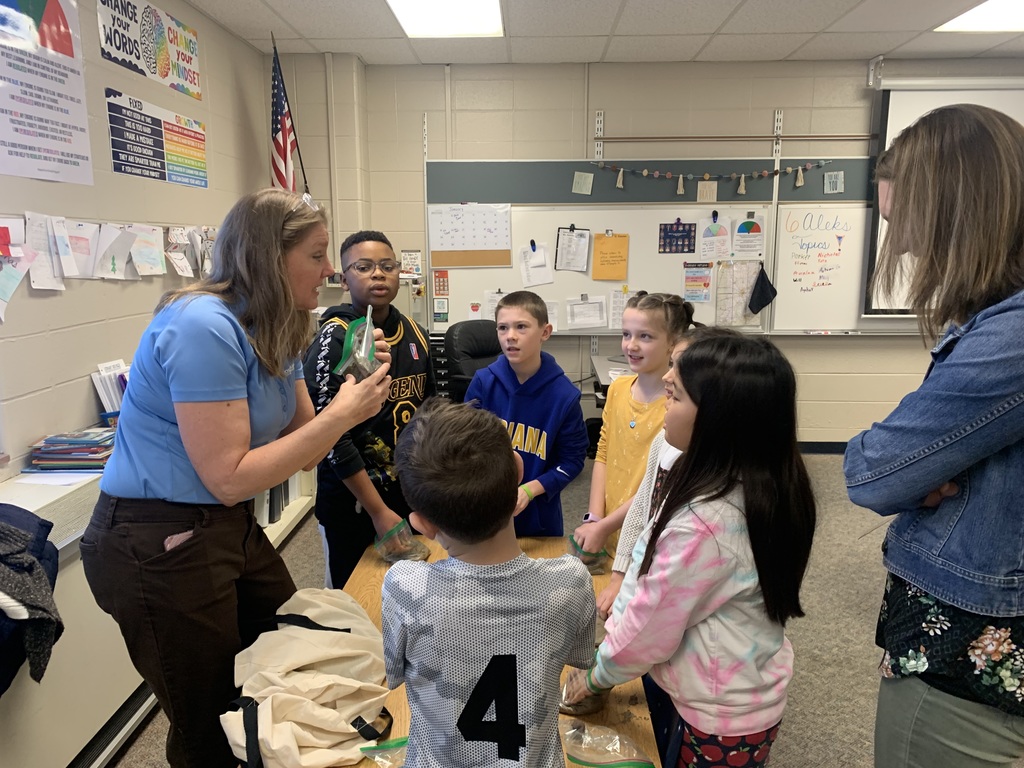 Shelbyville Central Schools will be CLOSED today. This day will be made up on Monday 2/20. Thank you, and be careful.

FREE COVID home test kits (4 tests per box) will be given to families whose children attend Shelbyville Central Schools. Date: May 31st Time: 3:00pm-6:00pm Location: Loper Elementary- drive up and pick up One kit per household. Parent/Guardian name and student name required **The test kits will be available while supplies last. If test kits remain after May 31st, an additional date/time will be scheduled. **

Two Hour Delay, Thursday May 19, 2022 Due to the fog, Shelbyville Central Schools will be operating on a two hour delay.

Shelbyville Central Schools Elementary Teacher Job Fair. Two Dates: Tuesday, May 10, 4:30 pm - 6:30 pm. and Saturday, May 14, 9:00 am to 11:00 am . 1121 E; State Rd 44 Shelbyville, IN 46176 Please bring a copy of your resume and any information you would like to share.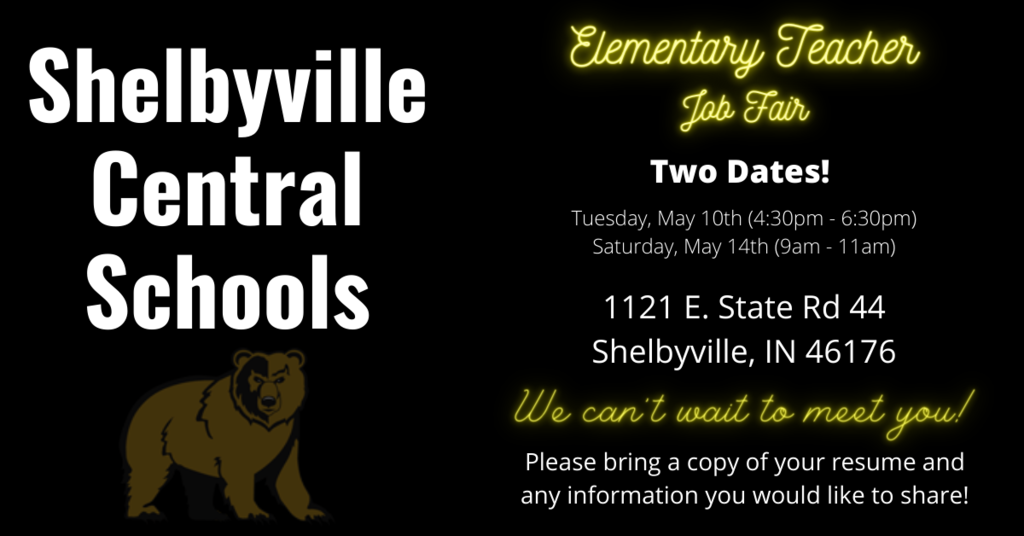 Congratulations to the Business Professionals of America (BPA) students who competed at state competition this past Sunday through Tuesday. ALL of the students did a great job of representing Shelbyville High School. The following students qualified to compete at the National Leadership Conference in Dallas, Texas from May 4th-May 8th. Gabbi Fox: 2nd in Advanced Desktop Publishing, 3rd in Graphic Design Promotion, Statesman Level Torch Awards, and Level 1 Student Certification Anesa Jakupi: 3rd in Administrative Support Research Individual, Statesman Level Torch Awards, and Level 1 Student Certification Ian Hall: 2nd in Digital Media Production Connor Zobel: 5th in Linux Operating System Fundamentals Honorable mentions goes to the Podcast Production Team of Ian Hall, Niven Herrington, and Connor Elliot for placing 4th.

Loperchaun March 12, 2022 TOMORROW COME JOIN US! Loperchaun 5K Run Saturday, March 12, 2022 Race begins @ 9:00 a.m. Registration closes @ 8:45 a.m. This 5K Run/Walk at Loper Elementary School is a family-friendly event! Awards for top three finishers Race results will be posted at webscorer.com PREREGISTER BY 2/22 ADULT $20 STUDENT $6 RECEIVE A FREE LOPERCHAUN WATER BOTTLE RACE DAY REGISTRATION FEE ADULTS $25 STUDENTS $8 FREE FUN RUN FOR KIDS 3-6 YEARS OF AGE AT 8:30!! PARTICIPANTS WILL RECEIVE A FREE BOOK!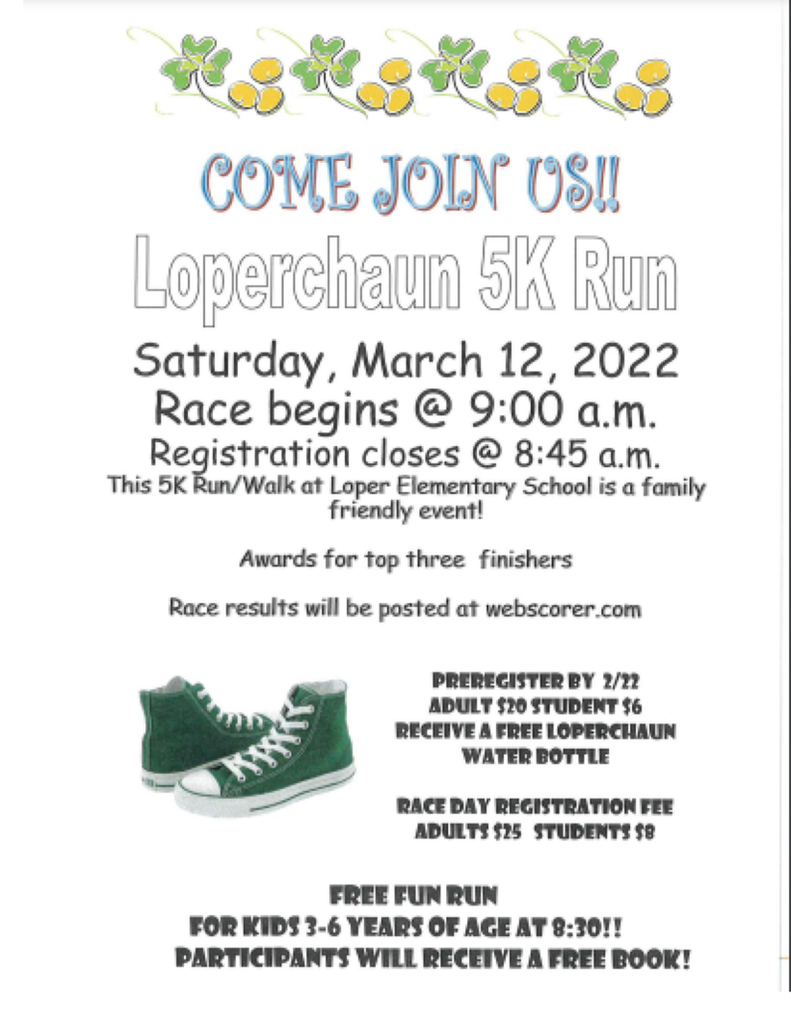 The CDC has lifted the mask mandate on school buses effective immediately. Therefore masks are no longer required on Shelbyville Central Schools buses. Thank you.

The School Board for Shelbyville Central Schools met at noon today, and voted to end the mask mandate and COVID protocols related to contact tracing and close contacts effective immediately based on new guidance from the Indiana Department of Health. SCS will follow the quarantine protocols for people that test positive, monitor attendance daily and report any unusual spikes in absences to the Shelby County Health Department. We will continue to comply with the federal mask mandate on buses.

Shelbyville Central Schools will be operating on an e-learning day today, Feb 18,2021 due to flooding and icy road conditions.

Due to impending weather, all SCS extra-curricular activities are canceled for this evening, and tomorrow, Thursday, February 3, will be an eLearning day. Thanks and stay safe!


Purple Out The SHS swim team had Saturday morning to celebrate completing The Coaching Boys Into Men program with Coach Weiler. They each signed the pledge to continue using what they learned in the program to take action to prevent domestic and dating violence.

Shelbyville Central Schools Job and Career Fair January 19, 2022 SCS Administrative Offices 1121 E. St. Rd 44 Shelbyville, IN